I've always been fascinated by the old corner shop on Wilmot and Ainsley Street, especially as there did seem to be a business in there but they never seemed to be open. I had managed to find the planning application to switch the premises from use as a shop to an office back in 1998, but other than that the current occupier was a mystery. It was a great coincidence that I took a taxi a few months ago and got talking to the driver, it turned out that his brother was the current tenant running a sports shoe business.
During my recent conversations with John Mossell I managed to learn a lot more about the history of the original corner shop. John says:
"The corner​ ​shop​ ​on​ ​1​ ​Ainsley​ ​Street​ ​was​ ​a​ ​fantastic​ ​shop​, of which many​ ​people​ ​living​ ​on​ ​the​ ​the estate​ ​have​ ​many​ ​great​ ​memories​ ​of.​ ​​​It​ ​was​ ​a​ ​combination​ ​of​ ​a​ ​grocers​ ​shop​ ​and newsagents. and​ ​was​ ​known​ ​for​ ​most​ ​of​ ​my​ ​time​ ​as​ ​"Phil​ ​and​ ​Pete's".​ ​As​ ​it​ ​was​ ​run​ ​by​ ​a married​ ​couple​ ​called​ ​Peter​ ​and​ ​Phyllis​ ​Hambleton. ​They​ ​were​ ​very​ ​popular​ ​and​ ​got​ ​on​ ​very well​ ​with​ ​the​ ​residents.​"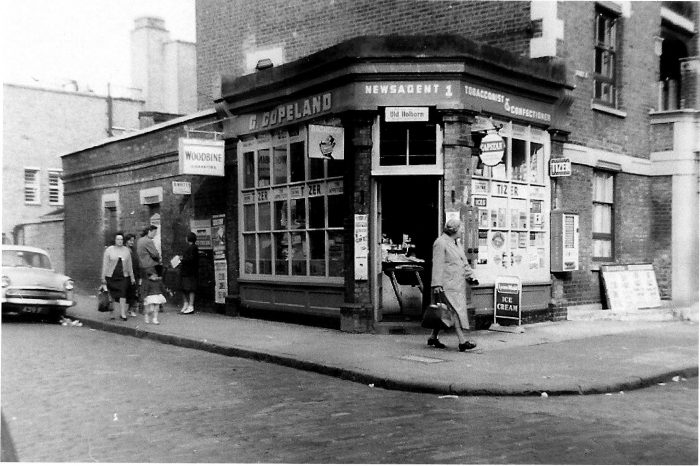 "​​​During​ ​the​ ​1970's​ ​supermarket​ ​shopping​ ​was​ ​still​ ​a​ ​relatively​ ​new thing,​ ​and​ ​families​ ​including mine​ ​still​ ​got​​ lot​s ​of​ ​their​ ​provisions​ ​from​ ​these​ ​shops.​ ​​​There were​ ​three​ ​main​ ​supermarkets​ ​you​ ​could​ ​go​ ​to – ​a​ ​Coop​ ​store​ ​in​ ​the​ ​section​ ​of shops​ ​before​ ​where​ ​the​ ​trendy​ ​​ ​cafe​ ​338​ ​and​ ​Peliccis are​ ​located.​ Where ​the​ ​McDonalds​ ​is now​ ​was​ ​a​ ​very​ ​popular​ ​supermarkets​ ​called​ ​"Keymarket"​ ​that​ ​was​ ​larger​ ​than​ ​Tesco​ ​at​ ​the time.​ ​​​
Up​ ​until​ ​1982​ ​Tesco​ ​was​ ​smaller​ ​than​ ​it​ ​is​ ​today and ​only​ ​occupied​ ​the​ ​small grey building​ ​but​ ​then​ ​expanded​ ​with a ​red​ ​brick​ ​extension​ ​that​ ​you​ ​see​ ​today.​ ​​​Tesco​ ​then​ ​had two​ ​floors,​ ​the​ ​food​ ​section​ ​where​ ​the​ ​entrance​ ​is​ ​today​ ​and​ ​above​ ​this​ ​was​ ​a​ ​popular clothes​ ​and​ ​homeware​ ​section.​ ​​"
"Phyllis​ ​and​ ​Pete​ ​had​ ​the​ ​corner​ ​shop,​ ​I​ ​think​ ​from​ ​mid 1960s ​to​ ​moving​ ​out​ ​to​ ​live​ ​in​ ​Clacton​ ​in​ ​summer​ ​of​ ​1979.​ ​The​ ​shop​ ​was​ ​then​ ​taken​ ​over​ ​by a​ ​man​ ​who​ ​already​ ​was​ ​running​ ​a​ ​shop​ ​and​ ​got​ ​his​ ​step​ ​daughter​ ​Linda​ ​and​ ​her​ ​partner John​ ​to​ ​live​ ​in​ ​and​ ​run​ ​the​ ​shop.​ ​Linda​ ​and​ ​John​ ​were​ ​also​ ​popular​ ​and​ ​nice​​ ​but​ ​unfortunately​ ​business​ ​was​ ​hit​ ​by​ ​completion​ ​from​ ​the​ ​two​ ​local supermarkets.​ ​​She​ ​closed​ ​the​ ​shop​ ​in​ ​December​ ​1983​ ​and​ ​moved​ ​out.​ ​​Apart​ ​from​ ​a brief period ​after that the​ ​shop​ ​has​ ​remained​ ​empty​ ​since​ ​then."
The​ ​two​ ​shops​ ​on​ ​the​ ​ground​ ​floor​ ​of​ ​the​ ​flats​ ​on​ ​Three​ ​Colts​ ​lane​ ​were​ ​also​ ​very​ ​popular. On​ ​the​ ​left​ ​was​ ​a​ ​newsagent​ ​and​ ​sweet​ ​shop,​ ​known​ ​to​ ​all​ ​as​ ​Barry's,​ ​that​ ​was​ ​run​ ​by​ ​Barry Kirk,​ ​the​ ​son​ ​of​ ​the​ ​Landlord​ ​Tommy​ ​Kirk,​ ​of​ ​the​ ​Lamb​ ​pub​ ​(then​ ​became​ ​the​ ​Sporting​ ​Life Pub​ ​in​ ​late​ ​70s​ ​or​ ​early​ ​1980)​ ​up​ ​until​ ​the​ ​mid​ ​1970s.​ ​​​"
"The​ ​shop​ ​on​ ​the​ ​right​ ​was​ ​a​ ​grocers (can​ ​not​ ​remember​ ​the​ ​official​ ​name)​ ​run​ ​by​ ​brother​ ​and​ ​sister​ ​team​ ​called​ ​Emmie​ ​and​ ​Ernie, and​ ​was​ ​referred​ ​to​ ​as​ ​"The​ ​Dairy"​ ​or​ ​sometimes​ ​as​ ​​ ​"Emmie's".​ ​I​ ​seem​ ​to​ ​recall​ ​that​ ​they also​ ​had​ ​a​ ​shop​ ​on​ ​Brady​ ​Street​ ​and​ ​was​ ​run​ ​by​ ​Emmies​ ​husband?​ ​​ ​I​ ​believe​ ​the​ ​Three Colts​ ​Lane​ ​shop​ ​was​ ​in​ ​their​ ​procession​ ​until​ ​the​ ​late​ ​1980s.​ ​Like​ ​Phyllis​ ​Emmie​ ​was particularly​ ​a​ ​lovely​ ​lady,​ ​and​ ​my​ ​parents​ ​would​ ​buy​ ​from​ ​there​ ​as​ ​well,​ ​they​ ​did​ ​lovely​ ​sliced meats particularly​ ​ham​ ​off​ ​the​ ​bone.​ ​Other​ ​people​ ​recall​ ​two​ ​shops​ ​where​ ​two​ ​small​ ​houses are​ ​now​ ​located​ ​on​ ​Wilmot​ ​but I do​ ​not​ ​remember these​ ​being​ ​shops​ ​in​ ​my​ ​time,​ ​however​  ​I​ ​have​ ​a​ ​very​ ​vague​ ​memory​ ​that​ ​one​ ​of​ ​those​ shops​ ​became​ ​an​ ​Indian​ ​takeaway​ ​for​ ​a while​ ​in​ ​the​ ​late​ ​70s/early​ ​80s,​ ​​they ​are​ ​both​ ​now​ ​small​ ​residential​ ​houses/flats."
Thank you to John for taking the time to share his memories of the Estate. Along with this post my conversations with John also led to this post on the layout and conditions of the flats on Corfield Street in the 1970s, as well as this post about the Greencoats Tenants Association. You can find the Waterlow Estate Facebook Group here: https://www.facebook.com/groups/WaterlowEstate/